Cultivating Futures
Objective
To explore how added interactivity could improve various social or educational aspects to the natural history museum
Solution
Cultivating Futures is an interactive physical environment that teachers children ages 6-12 about future career possibilities in science. Digital projection, sensors, and chat bot technologies make up the core of this concept.
Role
Brainstorming, concept development efforts were shared among team members. My efforts focused on developing the visual design and functionality of our interactive environment.
Client
The Carnegie Museum of Natural History
Duration
Six week project for Interaction Design Studio course
Team
Jeffrey Chou, Devika Khowala
Tools
Adobe After Effects, Illustrator, Photoshop, XD
Considerations
How might we encourage children visiting the We Area Nature exhibit at the Carnegie Museum of Natural History to consider a future career in science?
Our project, Cultivating Futures is an interactive experience that engages with its users by asking them questions and learning about their interests. After a series of 5 questions, the algorithm matches the user with a career choice and displays an interactive video of a scientist role model.
Introduction
The Carnegie Museum of Natural History's exhibit, We Are Nature, deals with the Anthropocene, "the proposed epoch dating from the commencement of significant human impact on the Earth's geology and ecosystems, including, but not limited to, anthropogenic climate change" – Wikipedia.
Our team explored this exhibit and felt that while the evidence presented was compelling, few suggestions were offered for ways in which we as individuals could begin to make a difference.
Cultivating Futures attempts to reach children and their parents/guardians who are exploring this exhibit. Many children may not be aware of future career trajectories in science, which can help our planet. Many children are aware of what an astronaut is, but how many have heard of a marine biologist or a wildlife conservationist? This project aims to connect that gap, to turn a child's fascination with plants or animals into knowledge that there's a future career out there that can allow them to work with what they love, and help the planet Earth at the same time.
While it's likely that their interests will change and grow over time, we hope that this experience can plant a seed in their minds.
Overview

This concept encompasses an projected interactive environment. Users (aged 4-10) will walk through the space and answer a question about themselves at each stop along the way.
Both the questions and answers will be projected on the floor in front of the user.
Asking Questions

Shown above is a diagram of what each "Question Spot" along the way will look like.
Large footprints in the main circle will indicate where to stand. The question and five answer choices will appear in front of the user.
To answer a question, the user will reach out with his or her foot and tap or step on the circle corresponding with their answer.
From there, the user will receive feedback and instructions telling them where to go next.
After the final question has been answered, the user will arrive at the podium at the front of the experience. They will be asked their name and have a photo taken.
Interaction Detail

Seeing the Results
After all of the questions are answered, our system will match the user with an appropriate profession. The user will be introduced to a professional from that field on the screen at the front of the experience. They will be also given an option to interact with a scientist from that field.

Take A Way
Lastly, the user will be given a card to take with them. The front of the card will display their name, suggested occupation, and their photo.
The back of the card will list a few relevant local organizations that the user and his or her family can contact for more information or to volunteer with.

Professionals
Our team developed caricatures for eight different types of professional scientists to further engage with the user.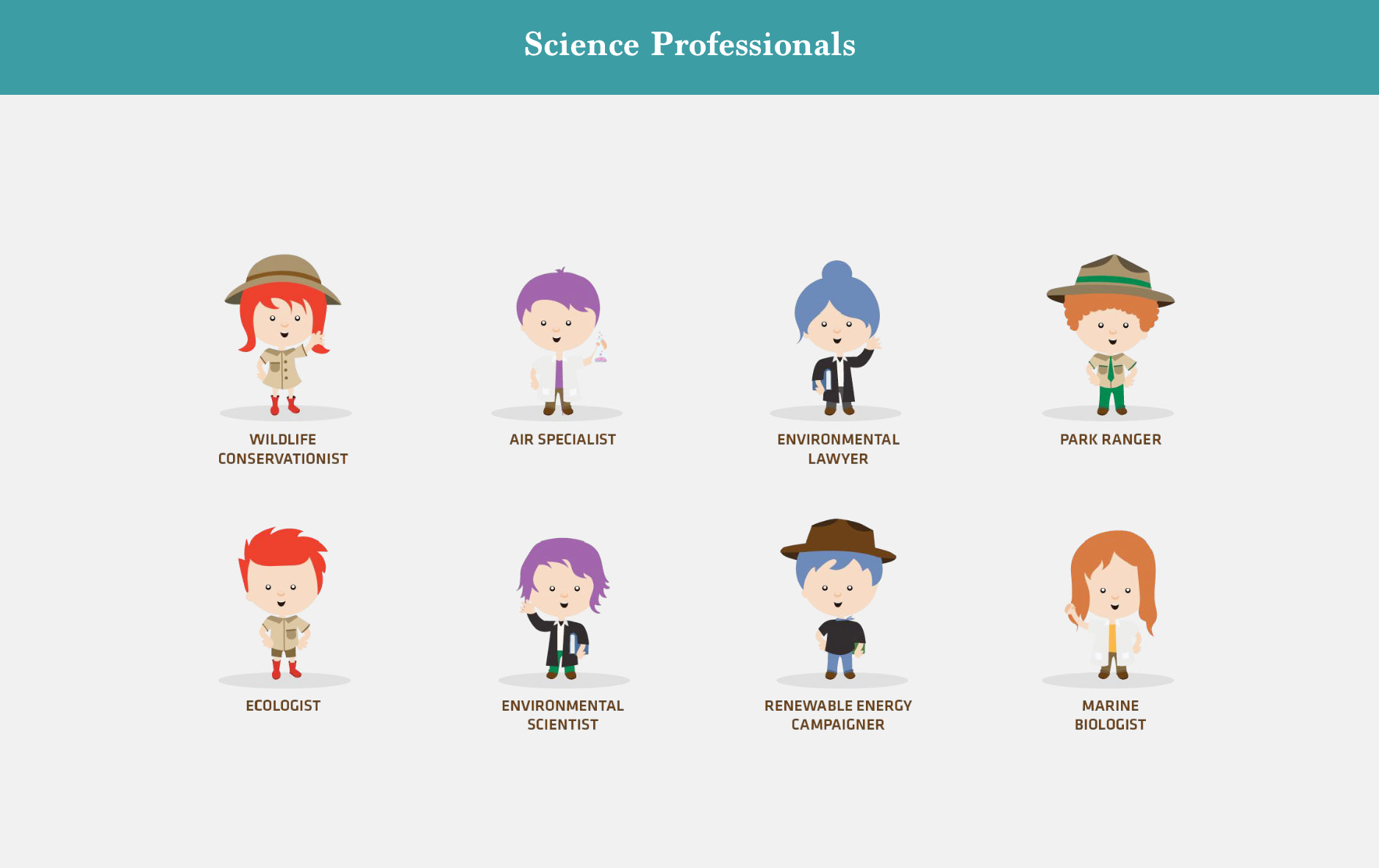 Experience Mock-up
Further Thoughts
Museums are a place for learning.
How does our activity inform museum visitors?
A realistic simulated conversation with a scientist adds value to the experience.
How might we incorporate chatbots, text to speech, and other technologies to further enhance this experience?
Kids react and respond to stimuli in a variety of ways.
Is utilizing text to speech and a touch interface the most effective way to engage with our audience?
Not every user will be a perfect user.
How can we prepare our system to work well with our target audience under unusual circumstances?