Park PGH
Objective
To analyze an aspect of parking in the City of Pittsburgh and investigate how newer technology and better means of communication could improve the experience of parking.
Solution
Park PGH, a multi-faceted system that re-organizes parking zones and better integrates a mobile app in Pittsburgh's Strip District neighborhood.
Role
Provided input on project direction, lead the design of the mobile and kiosk wire frames and low fidelity prototype mock-ups.
Duration
Two week Project for Designing for Interactions Studio Course
Team
Joseph Hines, Denise Nguyen, Hajira Qazi, Angela Wang
Tools
Adobe After Effects, Illustrator, XD, Rhinoceros, Sketch
Key Features
Re-organization of parking zones in The Strip District neighborhood to better utilize available street parking
Redesigned parking kiosk that is more ergonomically friendly, more visible to traffic, and has the capabilities to serve as a information hub
A mobile app that seamlessly integrates with the parking kiosk and parking zone system for The Strip District
Zone deployment, parking kiosk, and app that can be customized to work for each of Pittsburgh's neighborhoods, and possibly other cities
Friendly language at every step of the way and an experience designed to work for users and not against them
Image courtesy: scillystuff
Project Background
This project is looking at how we might develop useful information architecture for parking in Pittsburgh. Our team specifically examined Pittsburgh's Strip District neighborhood, a heavily commercial area with a close proximity to the central business district. As such, parking is often at or over capacity. Our team decided to take a look at what we could do to help.
Our team examined the issues surrounding parking in the Strip District from all sides. In a limited amount of time, we explored how we could improve upon the current parking situation. It's important to note that this project isn't an engineering study that aims to solve these parking issues, or even to alter or improve the current infrastructure. This project focuses on the information given to motorists as they use our proposed system to find and pay for parking.
The Strip District Today
The Strip District was chosen for this project because of its complexity and the strong ties it has to the local history. Despite being primarily commercial, new apartments and condominiums are on their way up. In addition, this area has very different purposes throughout the day. In the mornings, the this area is the region's produce hub, but as the afternoon turns to evening, it comes alive with a new directive, to serve the patrons of a wide swath of restaurants, bars and nightclubs.
Current Parking Maps
Design Criteria
What factors were important to our team as we developed this project?
Primary
Easy to understand kiosk and mobile screens
Digital signage on kiosks needs to communicate to drivers at a distance.
Kiosk user interface needs to be more integrated
The kiosk signage needs to provide an overview of what zone it's located within
The system needs to be flexible enough to be altered over time or to be adapted to many of Pittsburgh's other unique neighborhoods
Secondary
Reflective of the neighborhood's content – this might incorporate screens with information about the history of the area or feature a famous person commonly associated with the area
Incentive more distributed parking to decrease congestion at peak times
Increase parking turnover
Encourage people to park in zones further away
Pay as you go payment system, instead of the common practices of prepaying and estimating necessary parking time
Response kiosk to better match the user's height
Proposed Changes
The most obvious change to The Strip District parking system is a redistribution of parking kiosks.  The densest amount would remain in the most congested areas, but parking kiosks would be added to the rest of the neighborhood. That doesn't mean that parking in those outlying areas will become more expensive, but it gives the parking authority additional capabilities to convey information.
If no parking is allowed on a particular street during the morning or evening commute, the kiosks could display the appropriate information. If parking rates need to be altered due to an event or a new development in the area, the system can easily be updated.
See the map of the proposed changes below.
The Parking Kiosk
As can be seen in the images above, we have expanded the functionality of the parking kiosk.
New features include:
Dynamic signage: screens on the street-facing sides of the kiosk can display current parking information, as well as any parking restrictions currently in place.
Improved form: the new kiosks have a smaller footprint and increased height to better fit onto crowded sidewalks and remain visible over parked cars.
Interactive display: unlike the current kiosks which incorporate a mix of physical buttons and a small digital screen, the screen for the new kiosk features an all digital interface that positions its interface based on the position of the user's initial touch.
Mobile app integration: much of the parking payment interaction can be done through the user's mobile app. The kiosk's interface is designed so that the user may interchangeably utilize the kiosk or app to purchase more time, check their elapsed time, or to locate where they parked.
Below are low fidelity mock-ups showing what a simple parking interaction might look like.
The Mobile App
Our team felt it very important to focus on the convenience factor for the mobile app. If this were to be implemented, it would be a system that a large group of residents and visitors of the City of Pittsburgh would essentially be forced to use. Parking needs to become a more pleasant experience.
In order to better facilitate this idea, we sought to eliminate as many possible questions that the user may ask of the system. Questions like, "how much does it cost to park here?" and "when will my time expire?"
Below is a walk-through of the mobile experience.
User Flow Diagram
While you have seen mock ups of the kiosk and mobile experiences, our system is meant to integrate the two experiences into one.
Users may begin the parking experience on their mobile device and then use the nearest kiosk, or vice versa.
Below is a diagram showing two of the many possible user flows. Certainly, more possibilities and patterns exist. These two in particular are displayed because they represent the most likely user scenarios.
Other Considerations: Future States
Despite a short two week incubation period for this project, our team also explored some ideas of what the future of driving (and parking) might look like.
We gravitated to the ideal of a driverless future, where roads become pedestrian right of ways. But before we can arrive at that future, intermediate steps need to be considered. Already, ride sharing services are reducing the need for parking and that is expected to continue. Other means of transportation such as bicycling, continue to gain traction in Pittsburgh. How can a future be created where the many methods of transportation coexist?
How will the area around the parking kiosk change?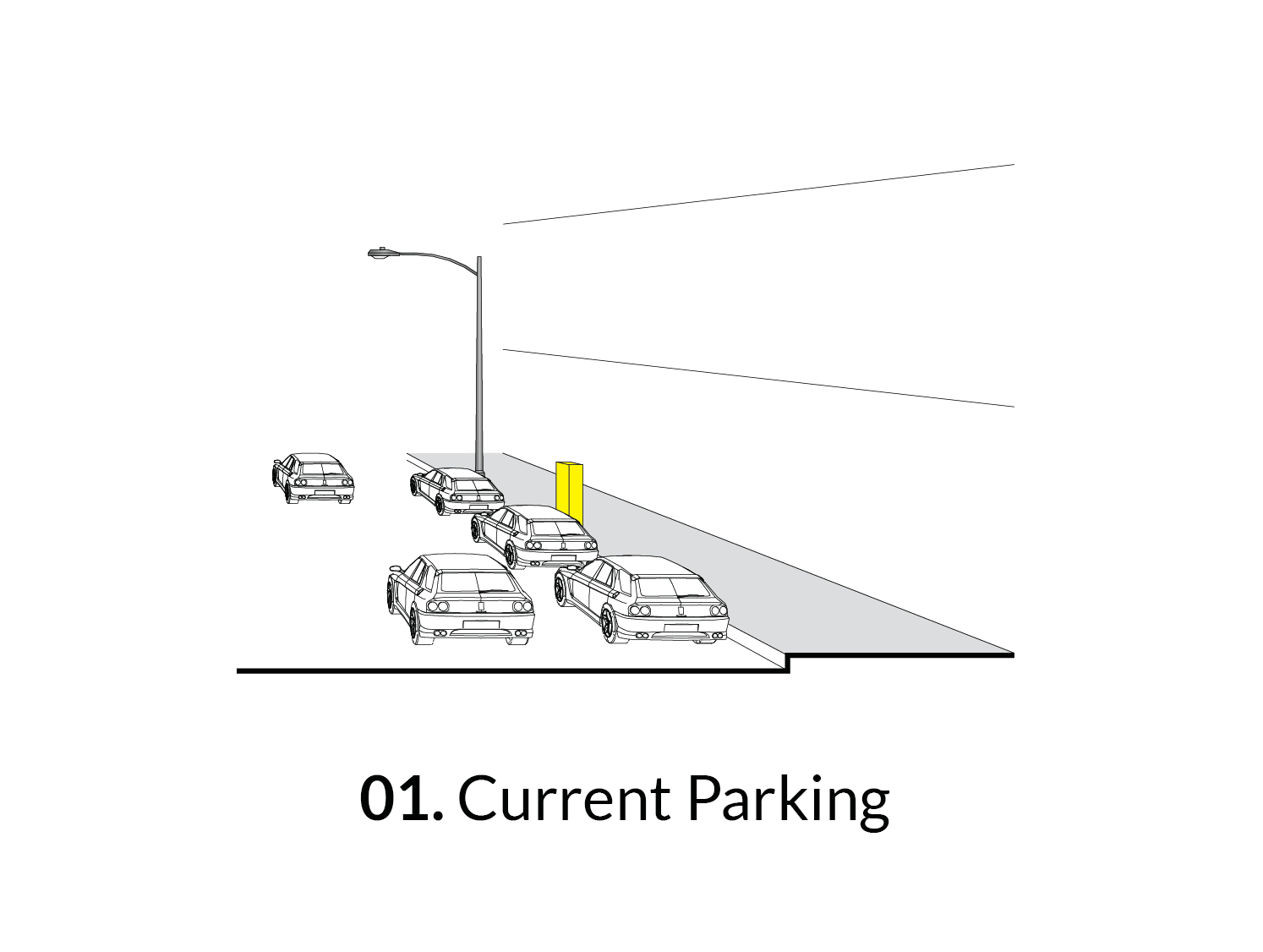 How will the kiosk change?
Imagine what the parking kiosk could provide in the future. It may not be just a place to pay for parking, it can become a place to call for help, an information booth, or a conversation hub all in one.
How will the street change?