Go Together
Objective
How might we enable travelers to better conceptualize, visualize, and share potential travel itineraries with one another?
Solution
Travel Builder—A mobile app that provides users with a visual language that allows them to build and store potential itineraries, share with fellow travelers, and propose or address varying options.
Role
Individual Passion Project
Read my process blog »
Project
Mobile Interaction Design
Duration
Two months
Team
Individual Passion Project
Tools
Adobe Photoshop, Illustrator, XD, InVision
Note: This project is currently ongoing. This page will be updated through Spring 2019. Last update: April 02, 2019.
Features
01: Define
Travel is more than an interest of mine, it's a passion. The ability to explore and learn, while being able to witness a different way of life is a very rewarding experience for me.
With our interconnected society, everyone has busy schedules and friends and relatives all spread all over the globe. Traveling together is a great way to stay connected with those busy or friends in another city, however the logistics of planning travel while apart can be complicated.
How might we enable travelers to better conceptualize, visualize, and share potential travel itineraries with one another?
02: Research & Insights
I spoke with a number of friends and peers about their travel planning experiences and preferences. I wanted to get a sense of how their plans come to fruition.
What piece of the puzzle do we most often start with? What comes next? Is our tendency to:
Start with a set of dates or time-frame?
Plan a trip around a friend or companions schedule?
Look for the cheapest airfare or other means of transportation?
Have a destination in mind and figure out the dates and companions later?
While it is helpful to know how travelers form their travel plans, it is also important to build a solution that can account for all of the various ways that people plan.
03: Concept Development & Ideation
Taking into account the project goals and the insights from my research, I sketched some potential designs for the mobile app. The features included:
A simple, yet comprehensive visual language that allows for representation of detailed travel information
How users may explore variations in their travel plans (ranging from a choice between different accommodations to the order of cities to visit)
An easy and collaborative way friends to share various travel plan ideas, along with variations if necessary, in a way that feedback and suggestions may be submitted.
04: Low Fidelity Prototypes
05: High Fidelity Design
I view travel as a world full of color and contrast. I wanted this project to speak to that observation. I wanted strong and bold colors to show through and to use my photography to bring the screens to life in the hope of further motivating and engaging with the user.
06: Visual Design Language
Below is my early mock-up of what a travel itinerary may look like. (Please bear with me as the design is very rough, and diverges from the layout shown on the above screens.) The intent here is to convey my thought process and ideas, as well as a sample of the data I wish to display.
What you will see is an itinerary laid out in different color coded blocks. The white ones corresponding to travel, blue and pink ones corresponding to different locations the user will spend time in, and the green labels corresponding to different hotels.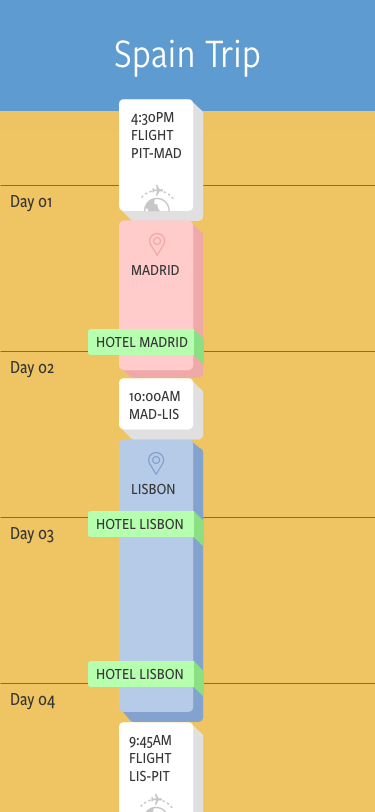 But the big idea here is to allow users to lay out multiple itineraries and easily communicate these without needing to send long detailed emails or talk on the phone for hours
Let's say the user can't decide if they would rather visit Madrid or Lisbon first. To help visualize what each itinerary would look like (see the example below), the user could build an alternate itinerary next to the original. The user would have researched alternate flight options in order to give a more accurate representation of how much time in each place they would have. After inputting all of the information, the user can see each itinerary side by side and use this comparison to assist in their decision making process.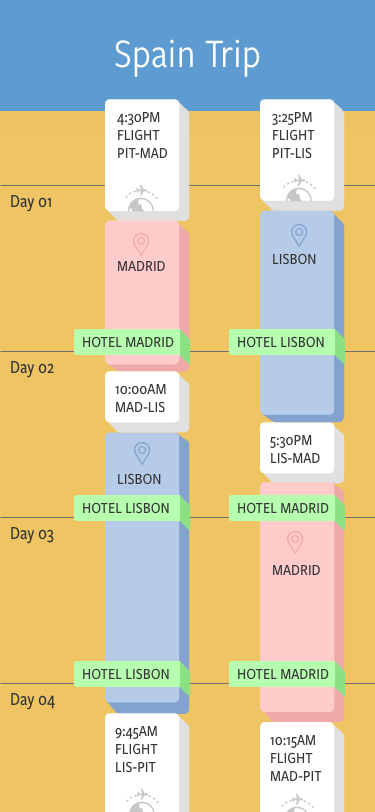 The above is one step out of many. There's a lot more I wish to accomplish for the development of this project:
Further refine the visuals, and finalize the layout and structure.
Explore the social aspect of this app, specifically how the creator may invite and share their "projects" with friends and potential travel partners, as well as how these other users can provide their input or make suggestions to the itinerary.
Further develop the process of how the group of users might finalize the itinerary to their liking from all of the options available.
Create a mobile prototype for sharing and testing purposes.
07: Conclusions
While there are a plethora of apps and websites that allow users to store travel itineraries, I felt like the focus of building a travel experience with a close (or not so close) friend could use some help.
I have become more aware of all of the minor details that go into travel, some that we may not be aware of until the day of travel. But I feel that the more we can to do help the user prepare and understand what is needed, they will be more capable of making a fully informed decision during the planning stage, not standing on a street corner frantically looking through their phone for more information.
If I can make this process easier and more helpful, this will have all been worth it.